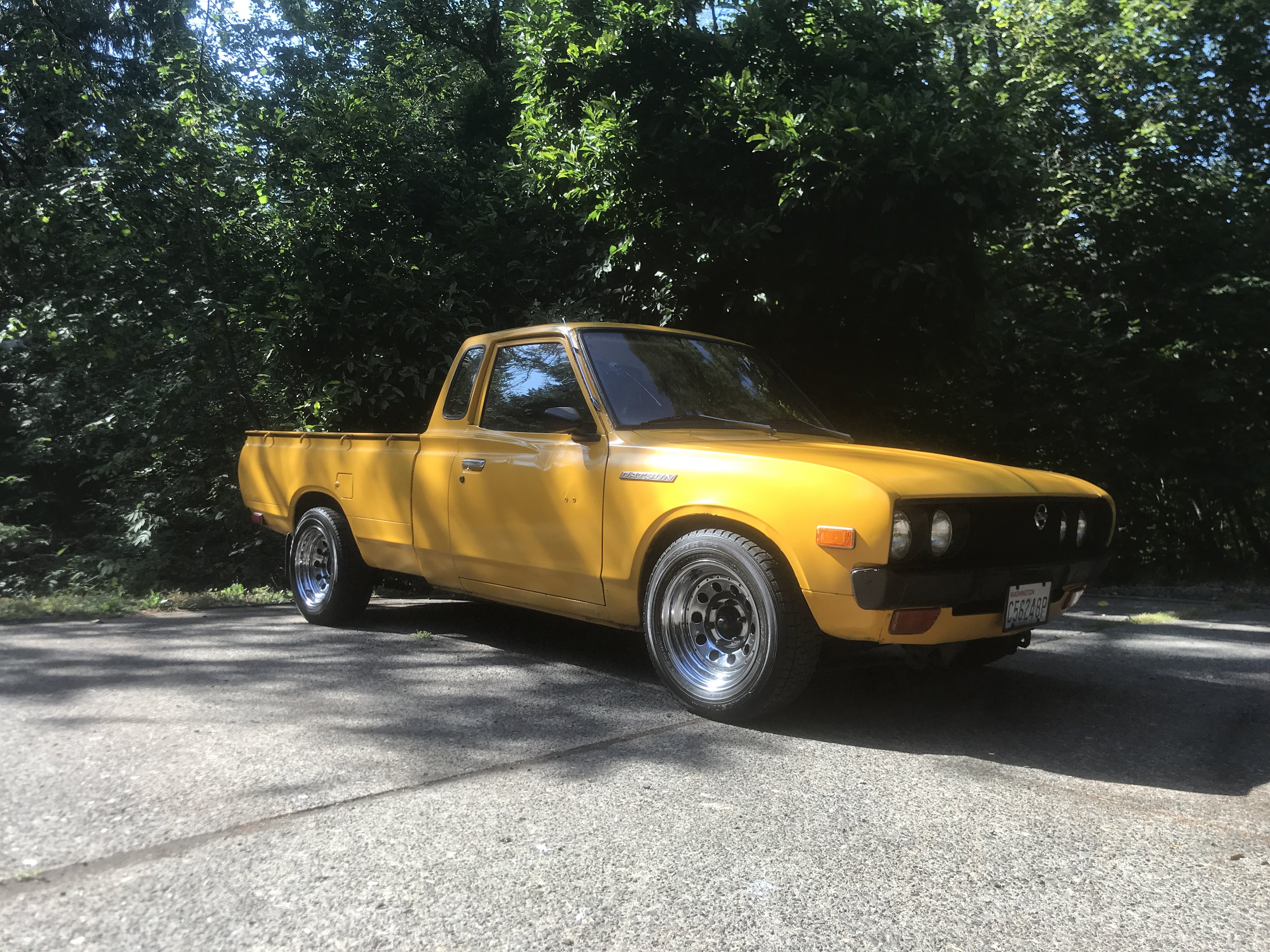 Posts

12

Joined

Last visited
Profile Information
Gender
Location
Cars

1978 Datsun 620 Pickup, 1994 Nissan Hardbody 4x4, 1997 Nissan Hardbody 4x4, 1986 Volkswagen Jetta

Interests

Engine, suspension, fabrication, welding, driving

Hiking, camping, wheeling, driving

Occupation
Recent Profile Visitors
The recent visitors block is disabled and is not being shown to other users.
DatNoss's Achievements
Newbie (1/14)
And, to reiterate on mike's post, the PCV port I made is a goodly distance away from the exhaust manifold, about 36" from the collector. I'm hoping this is far enough away from extreme temps, but something more for me to think about. Good convo. It's not a race engine hehe

You're an immense resource of info, mike. Thanks. Perhaps I was just overthinking the whole situation, and I think most of us do. Since I have this in place, I'll let it run and keep an eye on it. I drive this truck 40 miles a day, 5 days a week, and more on the weekend for recreation. If it isn't optimal, I'll change it. I just love tinkering on vehicles, and I had a chance to do this when I rebuilt my L20B. If I get a chance to modify something for posterity, I'll do it for fun. 🙂

And laugh if you wish, I'm cool with it. I try to do everything in my driveway and it isn't always pretty.

I haven't signed on in awhile, sorry for the late reply. It was just a simple mod that I chose to do, because I had eliminated the whole EGR block which contains the PCV valve. After some head scratching, I did some internet research. This is a pretty common practice, more so in high performance applications. I was just looking for an outlet for the PCV, because I feel it's an important part of the engine and didn't want to cut it out of the picture. I basically made a small sleeve that I welded into the exhaust down pipe with a fitting for the PCV. The idea is to create a Venturi valve, so it has to be welded in at a 45 degree angle to the exhaust flow. I actually used the metal tube that holds the PCV valve off of the intake manifold, drilled a hole in my sleeve, and burned it in. So far so good, no issues and no gunk in the intake. The oil particulates vaporize in the exhaust. My theory is that this should keep the intake manifold cleaner, now that oil particulates aren't being pulled through it. https://photos.app.goo.gl/K2H2N4yGT2PzTzJn7

Thanks. I'm still learning the tricks for posting images.

https://photos.app.goo.gl/MxNdD7d1Rya3kCqq6 https://photos.app.goo.gl/64xLgdAtiW4hUg4P6 https://photos.app.goo.gl/P1pvZAgT4eNfstKw8 https://photos.app.goo.gl/f5aVQPAuh183gsCEA Hey everyone. New guy here, and wanted to say hi and share my project, a '78 620 KC. I've been on vacation all week, and in customary style I spent every day so far working on my truck. Today I finished my 4x4 leaf spring swap in the rear and wanted to share it. A lot of the info for this swap I gleaned from ratsun. The reason I'm sharing is because I used a leaf pack from a 1994 Hardbody, and most info pointed towards using 720 leaf packs. The 86-97 4X4 packs do fit. I had a custom pack that I built for the front end of my my 4x4, but that front end is getting links soon so I am no longer using them. So I thought, what the heck, let's ditch those 2" lowering blocks on the Datsun and make a new pack. My rear leaf pack is as follows: -hardbody main leaf, with Energy Suspension (red) bushings -another Hardbody main leaf with the eyelets cut down, so they wrap partially onto the main leaf -hardbody second leaf -no overload leaf, because I think they look tacky and I'm not hauling a lot in this truck This leaf pack raised my ride height in the back about half an inch. I'm okay with that, it's probably because of the second main leaf I used. I also put spring clamps on the pack to keep the leaves from fanning out, which can make the pack stiffer. Overall, I LOVE it. Much stiffer ride, but still controlled, even with old cheap shocks. Steering response is quicker and the truck rides over bumps more smoothly and stays flat in the corners. I did have some fun with the metal bushing sleeves for my eyelets. I found out that, if you drill out the stock rubber bushing on the FRONT of the 620 pack, and keep the metal sleeve, it fits perfectly into the REAR of the Hardbody pack and is the perfect size for the 620 shackles. As for the front, I had to dig into my parts bin. I found a pair of sleeves that fit the Hardbody pack, and accepted a 3/4" bolt. Works for me. Cheers

https://photos.app.goo.gl/WHYDQxpAdXhxiEon6 https://photos.app.goo.gl/2xFGSCZ3npcApRcP6 https://photos.app.goo.gl/a6EVdPyxbtjiFzVU8 I hope these photos show up. Thanks all for the warm greetings. I got my 620 completely refreshed, all new gaskets on the engine, and she purrs. Ive had her since January. Since then, I've done the following: 2" drop spindles, discs, calipers, hubs, from a Hardbody. The engine work, of course, with emissions delete and routed the PCV to the exhaust I'm loving how smooth she runs now. I have lots of plans from here on, and will be sure to share when I tackle them.

For now I'll just tease y'all by changing up my profile pics until the weekend, when I can sit down and sort out my project pics. And I totally agree Mike, about the cam tower bolts. They are sketchy. I meticulously cleaned all the bolts and holes before reassembly. The head bolts still looked great, I reconditioned them and reused them, no issues. My Lady got me a Chilton's, FSM, and owners manual for the '78 King Cab for my birthday this year. She knows me so well.

I will, and thanks guys. I sourced a cylinder head last weekend from a local Datsun guru named Rick living nearby in Washougal. We met for a simple transaction and ended up talking about our rigs for a good half an hour. He has a slick 510 he is working on and has been in the Datsun world for years, his place is like a salvage yard for parts. And he has front grille emblems, score! Needless to say he saved me. I got a complete head for a hundy, and was able to reassemble mine with his drivetrain parts (his valves didn't look so great, and my head looked beautiful in comparison, only 150k original miles). I just got the head back on the block this afternoon, and Pikachu should be running by Sunday. I want to start throwing up some pics but haven't gotten familiar with the forum yet. All my pics are on my phone, and it looks like I have to upload them to a site first?

The cam was my fault. I was reassembling the head this weekend, after a full gasket and engine bay refresh. The head looked beautiful, and I was reassembling it after some cleaning. I neglected to notice that one of the cam towers wasn't seated on its metal sleeve as I was torquing down the retaining bolts. Everything looked good, and I was being gentle, until I heard a small POP. I figured the towers popped into place, I've experienced that before on other engines. Nope. The cam literally broke in half. The #3 cam tower was wonkeyed on top of the bolt sleeve that fits into the head. I never thought that a camshaft would break like that. If not for that oversight I would have had the engine together about right now. LoL So now, searching for a cam so I can get this damn truck driving again. I can't wait to drive it without all the awful exhaust and coolant leaks from which it was suffering. Its my DD, not looking for anything other than getting it running smoothly. Been looking for a used cam all day for L16/18/20B motors, it's all I need, and I figured Ratsun is the place to ask.

Hello all, I wanted to introduce myself. I'm a recent member to this awesome forum, although I've been ghosting information frobm it for months concerning my most recent acquisition, a '78 620 extended cab. I've been wanting a Datsun for the past 10 years, and by chance and luck I was able to find this one. Perhaps it found me. My first truck was a red '94 Nissan Hardbody. I still own it now, after 15 years. It was a stock 4x4 at the time. Now, it sits on 35" tires with a Dana44 front end, built axles, an exo cage, and a KA24E engine from a 240SX that I hand built myself. You could say that I like doing my own work. I had a Subaru Outback for awhile, it was fun but unfulfilling. I sold it for a black '97 Hardbody King cab, my first extended cab truck. I loved it. After some basic repairs, it ran like a new rig off the lot. Here is the funny twist in my truck story. I got a call from the young man that sold me this truck. He was stuck up in the snow on Larch Mountain. It was around 10pm on a Saturday. I loaded up my gear and went to pull him out. And as I was shoveling snow from about his rig, a new Ford came sliding down the mountain and obliterated my parked Nissan. I was dismayed, but the insurance payoff was huge. I bought a $800 truck and was reimbursed $4K. With some financial leeway, I decided that it was time to find my Datsun. I did a quick craigslist search, and found a freshly painted '78 king cab in Springfield, Or. I decided to jump on it. My lady and I drove down there on a Sunday with snow in the weather forecast. I could tell that maintenance was needed on the truck, but it ran and drove. Snow was falling heavily. It's hard to inspect an engine bay in a snow flurry. It was cold, it was snowing, and I didn't want to leave with nothing after a 3 hour drive. I paid in cash and drove her home. The next day, I heard that Springfield got over 6" of snow and the roads were blocked. Timing is everything. Now I am the proud owner of one of my dream trucks, which my sarcastic friends have aptly nicknamed Pikachu. I have come to realize that it takes a community of knowledge and resources to keep this truck on the road. I've been refreshing and restoring this truck for a few months, and finding parts and knowledge is a task. Most of it I have gotten from this form. So I thank you all, and I hope to be a resource to everyone as well.